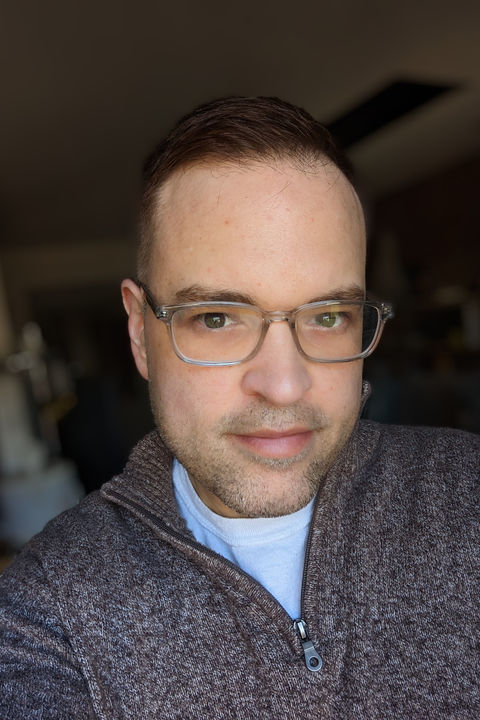 Penn State Abington
1600 Woodland Road
Abington, PA 19001
Biography

Dr. Webster (he/him) was born in San Dimas, CA (LA area) but grew up in Chicagoland, graduating as a first-generation student with a BA in Psychology and French (including studying abroad in Angers, France) from North Central College in the Chicago suburbs.

He went on to earn an MA in Cognitive/Social Psychology at Ball State University and a PhD in Personality/Social Psychology at Kansas State University. Before arriving at Abington, Dr. Webster held visiting positions at three other undergraduate-focused institutions: Gustavus Adolphus College (St. Peter, MN), North Central College (Naperville, IL), and St. Mary's College of Maryland (St. Mary's, MD).

Dr. Webster lives in Center City Philly with his partner/spouse Hibby and their pearly conure Duchess. In his free time, he loves to cook/bake, dabbles in mixology, listens to EDM, and explores everything Philly has to offer.

Courses and Teaching

PSYCH 200: Elementary Statistics in Psychology
PSYCH: 296/496: ACURA (Abington College Undergraduate Research Activities)
PSYCH 238: Introduction to Personality
PSYCH 422: Psychology of Human Sexuality
PSYCH 466: Psychology of Evil (Fun fact: Dr. Webster made this a permanent course in the Penn State Bulletin)

Internal Grants

2021 C3N Criminal Justice Research Center Grant, $5,375.
2021 Summer Faculty Grant Fellowship, $4,000 [stipend].
2020 Faculty Development Grant, $1,970.
2020 Summer Faculty Research Fellowship, $4,000 [stipend].
2019 Chancellor's Grant, $4,979.
2019 Faculty Development Grant, $4,400.
2019 Rubin Psychological and Social Sciences Endowment, $1,440.
2017 Faculty Development Grant, $1,125.
2017 Summer Faculty Research Fellowship, $4,000 [stipend].
2016 Faculty Development Grant, $3,230.
Research Interests

Research Interests

Broadly, I research how the person (personality, attributions, and attitudes) and the situation contribute to (1) intergroup prejudice (primary research line) and (2) magical thinking (secondary research line). Most recently, I have focused most of my attention on investigating how, under different conditions, belief in pure evil and belief in pure good relate to aggression and prosociality.

Research Areas

Prejudice, stereotyping, discrimination; belief in pure evil and belief in pure good; prosociality and altruism; political psychology and political orientation; human sexuality, gender, and sexual orientation; magical thinking, fantasy, and superstition.

Research in the News

Dr. Webster's research has been featured in several prominent popular media sources, including:
Publications

Representative Publications

(*Indicates undergraduate co-author; §Indicates equal co-authorship)

§Webster, R. J., *§Morrone, N., Motyl, M., & Ayer, R. (in press). Using trait and moral theories to understand belief in pure evil and belief in pure good. Personality and Individual Differences.

Webster, R. J., *Morrone, N., & Saucier, D. A. (in press). The effects of belief in pure good and belief in pure evil on consumer ethics. Personality and Individual Differences.

Webster, R. J., *Vasturia, D., & Saucier, D. A. (2021). Demons with guns: The effect of belief in pure evil on attributions of gun violence perpetrators. Applied Cognitive Psychology, 35, 809-818. doi: 10.1002/acp.3795

*§Vasturia, D., §Webster, R. J., & Saucier, D.A. (2018). Demons with firepower: How belief in pure evil relates to perceptions and evaluations of gun violence perpetrators. Personality and Individual Differences, 122, 13-18. doi: https://doi.org/10.1016/j.paid.2017.09.037 

Webster, R. J., & Saucier, D. A. (2017). Angels everywhere? How beliefs in pure evil and pure good predict perceptions of heroic behavior. Personality and Individual Differences, 104, 387-392. doi: 10.1016/j.paid.2016.08.037.

Webster, R. J., & Saucier, D. A. (2015). Demons everywhere? The effects of belief in pure evil, demonization, and retribution on punishing criminal perpetrators. Personality and Individual Differences, 74, 72-77.  doi: 10.1016/j.paid.2014.09.041

*§Fluke, S., §Webster, R. J., & Saucier, D. A. (2014). Methodological and theoretical improvements in the study of superstitious beliefs and behavior. British Journal of Psychology, 105, 102-126. [Early View Online Article] doi: 10.1111/bjop.12008

Saucier, D. A., Webster, R. J., Bynum, B. H., & Strain, M. L. (2014).  Social vigilantism and reported use of strategies to resist persuasion. Personality and Individual Differences, 70, 120-125.  doi: 10.1016/j.paid.2014.06.031

Webster, R. J., *Burns, M. D., *Pickering, M., & Saucier, D. A. (2014). The suppression and justification of prejudice as a function of political orientation. European Journal of Personality, 28, 44-59. doi: 10.1002/per.1896  [Early View Online Article]

Webster, R. J., & Saucier, D. A. (2013). Angels and demons are among us: Assessing individual differences in belief in pure evil and belief in pure good. Personality and Social Psychology Bulletin, 39, 1455-1470.  doi: 10.1177/0146167213496282 [An OnlineFirst Publication]

Webster, R. J., & Saucier, D. A. (2011a). The effects of death reminders on sex differences in prejudice toward gay men and lesbians. Journal of Homosexuality, 58(3), 402-426. doi: 10.1080/00918369.2011.546735

Webster, R. J., & Saucier, D. A. (2011b). I believe I can fly: Re-Examining individual differences in imaginative involvement. Imagination, Cognition, and Personality, 30, 425-455. doi: 10.2190/IC.30.4.f

Grover, K. S., Miller, C. T., Solomon, S., Webster, R. J., & Saucier, D. A. (2010). Mortality salience and perceptions of people with AIDS: Understanding the role of prejudice. Basic and Applied Social Psychology, 32, 315-327. doi: 10.1080/01973533.2010.519252

Saucier, D. A., & Webster, R. J. (2010). Social vigilantism: Measuring individual differences in belief superiority and resistance to persuasion. Personality and Social Psychology Bulletin, 36, 19-32. doi: 10.1177/0146167209346170 [An OnlineFirst Publication]

Webster, R. J., Saucier, D. A., & Harris, R. J. (2010). Before the measurement of prejudice: Early psychological and sociological papers on prejudice. Journal of the History of the Behavioral Sciences, 46, 300-313. doi: 10.1002/jhbs.20442

Book Chapters

Saucier, D. A., Webster, R. J., O'Dea, C. J., & Miller, S. S. (forthcoming). The role of individual differences in inciting anger and social action. In S. C. Cloninger & S. A. Leibo (Eds.) Angry groups and politics: How they change society, and how we can affect their behavior. Praeger.

Webster, R. J., Saucier, D. A., & Parks, G. S. (2011). New bottle, same old wine: The GOP and race in the age of Obama. In G. S. Parks & M. Hughey (Eds.), The Obamas and a (Post) Racial America (pp. 266- 284). New York: Oxford University Press. doi: 0199735204
Education

Ph.D. (Personality/Social Psychology), Kansas State University (2012)
M.A. (Cognitive and Social Processes), Ball State University (2006)
B.A. (Psychology & French), North Central College (2003)