Interested in nominating an alumnus for the following awards? Please contact Liz Janczewski at [email protected]
Abington Alumni Achievement Award
This award recognizes those alumni who have demonstrated excellence in their field, contributed significantly to their profession, and gained exemplary reputation among colleagues. It honors Penn State Abington alumni who have brought credit upon Penn State through their professional, civic, or scholastic achievements.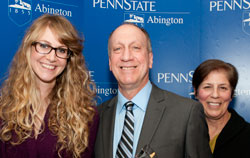 Past honorees include:
2012- Allen Hornblum
2011- Martin Zied (right)
2010- Robert A. Lear
2009- Stanley A. Singer
2008- David S. Rocchino
2007- John Roney
2006- Stewart Cohen
2005- Bruce W. Saenger
2004- Harry Butowsky
2003- Jeffery G. Clark
Abington Pride Award
This award honors individuals or organizations who, though not necessarily affiliated with the University, greatly enhance Penn State Abington by serving as advocates or partners on projects of importance to the University, the college, the surrounding community, or the Greater Philadelphia region. These individuals or organizations, through their outstanding commitment, have significantly contributed to the success of the college and its students.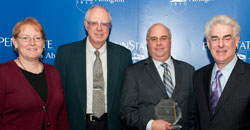 Past honorees include:
2011- The Rotary Club of Jenkintown (right)
2010- Enterprise Rent-a Car
2009- Richard L. Jones, Jr.
Charles Kahn, Jr.
2008- Abington Township Police Department
2007- Dr. Irma Russo
2006- Eastern Center for Arts and Technology
2004- Abington Memorial Hospital
2003- Abington Bank
2002- Jack & Jean Van Horn
2001- Mary K. Gilchrist
Penn State Alumni Association Awards
Alumni Fellow Award
The Alumni Fellow Award is the most prestigious award given by the Penn State Alumni Association. Since 1973, the Alumni Fellow Award has been given to select alumni who, as leaders in their professional fields, are nominated by an academic college and accept an invitation from the President of the University to return to campus to share their expertise with students, faculty, and administrators.
Past honorees include:
2012- David Rocchino
2011- Seth Williams
2010- Edward Fitzpatrick (right)
2008- Dan Murray
2006- Francis P. Brennan, Jr.
2005- Stephen G. Taub
2004- Wayne White
2003- Gerson Rosenberg
2002- Joseph Vassalluzzo
2001- Nicholas Maiale
2000- Albert L. Lord