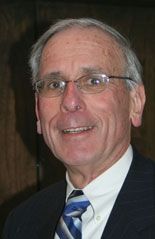 Rydal Executive Plaza, 315
Penn State Abington
0119 Sutherland Building
Abington, PA 19001
Biography

Education

B.S. and M.B.A. degrees, Accounting and Taxation, Long Island University.

M.A. degree, Educational Administration, Teachers College Columbia University.

Certified Public Accountant, (CPA) in the state of New York.

Professional Experience

Served in various higher education financial administrative positions including Business Manager, Dean of Administration and Vice- President for Finance and Administration at the City University of New York and two community colleges.

Served as the Chief Financial Officer of two law firms, one a New York international firm specializing in intellectual property and the other a litigation firm in Philadelphia.

Courses taught at Penn State

Financial and Managerial Accounting for Decision-Making and Intermediate Accounting.

Teaching Philosophy

The student is the focus of my efforts and, despite my attempts to enliven some of the material with humor or anecdotes, take my teaching responsibility very seriously. My objective is to provide course instruction that ensures academic quality, rigor and integrity. I believe that students learn at different rates and in different ways and so, to the extent possible, attempt to explore which methodologies may be most effective for particular groups of students.