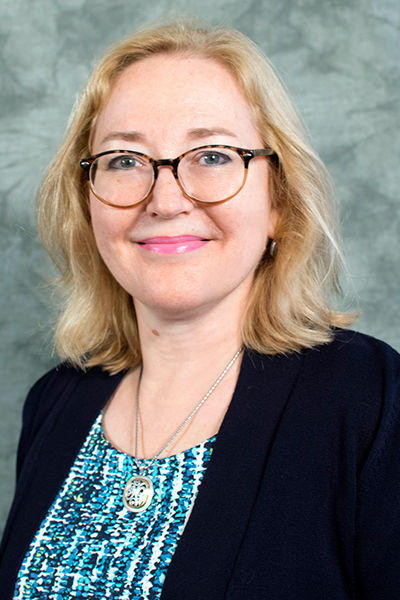 Director of Institutional Effectiveness & Faculty Development
Biography

As Director of Institutional Effectiveness & Faculty Development, Dr. Weekes oversees program reviews, mentoring, new faculty, promotion & tenure processes, Faculty Fellows, the Teaching & Learning Collaborative, faculty programming, high-impact practices, and more. She is also an Associate Professor of English and Women's Studies.

Teaching interests and courses taught at Penn State

Areas: contemporary literature, American literature, women's writing, women's studies
ENGL 136      The Graphic Novel
ENGL 140      Contemporary Literature
ENGL 200      Introduction to Critical Reading (Literary Theory)        
ENGL 232      American Literature from 1865
ENGL 050      Introduction to Creative Writing
ENGL 213      Introduction to Poetry Writing
ENGL 004      Basic Writing Skills ENGL 400 African Women Writers
ENGL 490      Women Writers (cross-listed with Women's Studies)   
ENGL 487W  Senior Seminar on Postmodernism
ENGL 419      Advanced Business Writing
ENGL 417      The Editing Process
ENGL 003      Traditions in American Literature
ENGL 001      Understanding Literature (Honors Seminar)                        
PSU 001          Freshman Seminar: Issues in Women's Health
WMNST 001  Introduction to Women's Studies
WMNST 301  Introduction to Feminist Thought

Selected awards, grants, patents, other honors

Award for Distinguished Faculty Service, 2018
Outstanding Teacher Award, 2016
Outstanding Advising/Mentoring Award, 2013
Lion Heart Award, Penn State Abington Senior Class, 2008.
Chief Ogontz Award, Penn State Abington, 2008.
Club Advisor of the Year, Penn State Abington, 2007.
Outstanding Teacher Award, Penn State Abington, 2005.
Recipient, "Above & Beyond" Student-Selected Faculty Award, April 2004.
Research Interests

Originally a researcher in contemporary women's autobiographical writings. I have recently shifted to an exploration of how we meet the needs of faculty members through mentoring and other institutional supports. This question is particularly salient for Faculty of Color, and my women's studies background gives me a particular interest in women's experience within this subcategory.

Prior to this, my research focused on blended forms of autobiographical writing. My experience in teaching and researching contemporary writing of all types led me to found the Society for Contemporary Literature in May of 2011, operating under the aegis of the American Literature Association.

I have long been interested in the way aspects of contemporary identity and positionality affect social justice issues, as shown in the edited collection Privilege and Prejudice. I have shifted from a literary focus to an examination of higher education, but an analysis of voice and structural power differentials continues to inform my work.
Publications

Selected Essays

"The Science of Diversifying Faculty: Designing Mentoring to Improve Diverse Outcomes." The Chronicle of Mentoring and Coaching, 2 (Oct 2019): 383-86.

"Words Are All You Need: Speech Acts in Lorrie Moore's Anagrams." Journal of American Studies, Special Issue on Lorrie Moore. Forthcoming.

"Multi-Ethnic Identity and Denise Chavez's The Last of the Menu Girls."  Blackwell's Companion to the American Short Story.  Eds. James Nagel and Alfred Bendixen. Blackwell, 2009.

"Consuming and Dying: Meaning and the Marketplace in Don DeLillo's White Noise."  LIT: Literature Interpretation Theory 18.4 (2007): 285-302.

"Othered Writers, Other Forms:  Biomythography and Automythography." Genre 39.2 (2006): 329-46.

"Taking Stock in Live People: Using Contemporary Literary Journals in the American Literature Classroom."  Pedagogy 5.3 (Fall 2005): 461-64.

"Identity in the Short Story Cycles of Lorrie Moore."  Journal of the Short Story in English 39 (Fall 2002): 109-22.

"Poe's Feminine Ideal." The Cambridge Companion to Edgar Allan Poe.  Ed. Kevin Hayes. Cambridge: Cambridge UP, 2002. 148-62.

Books

Book: Editor. Privilege and Prejudice: Twenty Years with the Invisible Knapsack. Newcastle upon Tyne: Cambridge Scholars Press, 2009. 182 pp.

Book: Editor. Women Know Everything!: 3241 Quotes by Women. Philadelphia, PA: Quirk Books, 2007, rev. 2010. 480 pp.
Education

Ph.D. English, University of Georgia, Athens, GA

Graduate Certificate Women's Studies, University of Georgia, Athens, GA

M.A. English (Creative Writing), University of Georgia, Athens, GA

B.A. English, summa cum laude, Georgia State University, Atlanta, GA