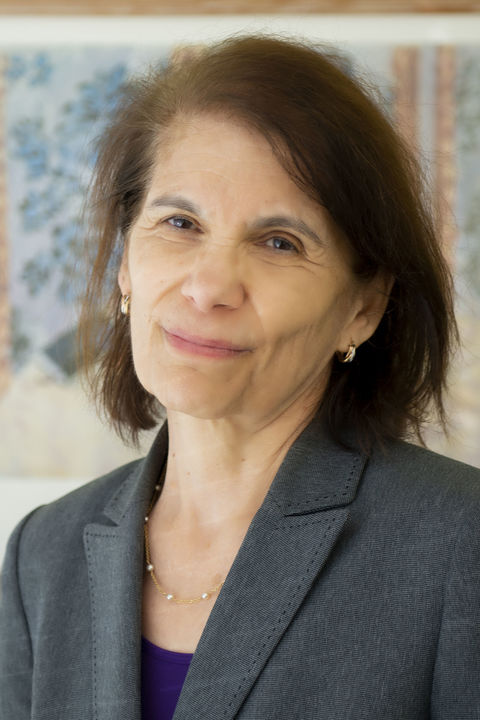 Professor of Communication & Jewish Studies
Penn State Abington
0119 Sutherland Building
Abington, PA 19001
Biography

Dr. Kliger's longstanding interest in the communicative practices and communal affiliations of immigrants and refugees includes a special focus on coping and adaptation in these minority communities. Currently, her primary research explores legacies of love and loss in the aftermath of trauma, about which she has authored numerous articles and book chapters.

She teaches courses on relational communication and human communication systems where, together with her students, she continues to explore how communication in families, communities, and organizations can foster self-esteem, creativity, and resilience.

In addition to public lectures in the community, she has delivered professional papers and presentations in academic and mental health settings in the United States, as well as international venues in Europe and the Middle East.

Prior to her appointment at Penn State in 2002, Dr. Kliger held faculty and senior administrative positions at various academic institutions, and has served as visiting professor or guest lecturer at numerous universities. In addition, she is a member of the Transcending Trauma Project, a multidisciplinary research team based at the Council for Relationships in Philadelphia.

Dr. Kliger is a member of the Psychoanalytic Center of Philadelphia, where she has been an Academic Fellow and from which she received postgraduate training in psychoanalysis and psychotherapy.

Selected publications

Selected Articles

"Cultivating the Capacity to Dream: Facilitating the Analytic Process" (in Yiddish), Afn Shvel: Journal of the League for Yiddish, No. 386-387, Winter-Spring 2020, pp. 20-22

"The Transmutative Turn: Legacies of Loss and Love at the Source", in S. Mitroiu, ed. Women's Narratives and the Postmemory of Displacement in Central-Eastern Europe, London: Palgrave MacMillan, Palgrave Studies in Life Writing, 2018, pp. 39-64

"Dignity and Defiance: The Resilience to Repair and Rebuild in Response to Despair" [with S. Bowen], in S.Mitroiu, ed. Life Writing and Politics of Memory in Eastern Europe, London: Palgrave MacMillan, 2015, pp. 105-123.

"Memories and Their Meaning: Legacies of Love and Loss", Clio's Psyche (Special Issue on Psychological and Psychoanalytic Perspectives on the Holocaust and its Aftermath Including the Expansion of Psychological Knowledge through Its Study), Vol. 21, No. 1, June 2014, pp. 54-57

"Never Forget Has Truly New Meaning Now (Niemals vergessen hat nun eine wahrhaft neue Bedeutung)" [with B. Peltz], International Tracing Service Annual Report, 2013, pp. 50-53

"Becoming Yiddish Speakers in New York: Burgeoning Communities of Bilingual Children" [with R. Peltz], Garcia, O. et al. (Eds). Bilingual Community Education for American Children: Beyond Heritage Languages in a Global City. Tonawanda, New York: Multilingual Matters, 2012, pp. 204-218

"Holocaust Narratives and Their Impact on Adult Children of Survivors" [with B. Hollander-Goldfein], in Hollander-Goldfein , B. et al. Transcending Trauma: Survival, Resilience and Clinical Implications in Survivor Families, New York and London: Routledge, 2012, pp. 223-234

"Trailblazers in Women's Health Education: Tracking the Early Experience of Innovators in Curricular Reform", Gender Medicine, Vol. 7, No. 5, October 2010, p. 518

"Holocaust Narratives and Their Impact: Personal Identification and Communal Roles" [with B. Hollander-Goldfein and E. Passow] in S. Bronner, ed. Jewish Cultural Studies: Expression, Identity, and Representations, Oxford: Littman Library of Jewish Civilization, 2008, pp. 151-174.

"Texts of Trauma, Texts of Identity: The Narrative Legacy of Holocaust Survivor Stories" [with B. Hollander-Goldfein], Doubletake/Points of Entry, Spring/Summer 2007, pp. 40-44

"Communication and Ethnic Identity in Jewish Immigrant Communities: The Role of the Voluntary Association", in G. Gumpert and S. Drucker, eds. The Huddled Masses: Communication and Immigration, Cresskill, NJ: Hampton Press, 1998, pp. 221-239.

"Writers Must Eat: The New York City Yiddish Writers Group of the Works Progress Administration", in Dov-Ber Kerler, ed. Politics of Yi ddish: Studies in Language, Literature, and Society, Walnut Creek: Alta Mira Press, 1998, pp. 107-121.

"The Secular Yiddish School in the United States in Sociohistorical Perspective: Language School or Culture School?" [with R. Peltz], Linguistics and Education: An International Research Journal, Vol. 2, No. 1, 1990, pp. 1-19.

"Approaching Diversity, Common Ground, And Even Higher", The Teaching Professor, Vol. 4, No. 4, April 1990, pp. 7-8.

"In Support of Their Society: The Organizational Dynamics of Immigrant Life in the United States
and Israel", in K. Olitzky, ed. We are Leaving Mother Russia: Chapters in the Russian-Jewish Experience. Cincinnati: American Jewish Archives Press, 1990, pp. 33-53.

"Ethnic Voluntary Associations in Israel", Jewish Journal of Sociology. Vol. 31, No. 2, December 1989, pp. 109-19.

"In a Common Cause, In This New Found Country: Fellowship and Farein in Philadelphia", in G. Stern, ed. Traditions in Transition in Philadelphia 1840-1940. Philadelphia: Balch Institute for Ethnic Studies Press, 1989, pp. 28-45.

"A Home Away from Home: Participation in Jewish Immigrant Associations", in W. Zenner, ed. Persistence and Flexibility: Anthropological Studies on the American Jewish Experience. Albany: State University of New York Press, 1988, pp. 143-64.

"Traditions of Grass-Roots Organization and Leadership: The Continuity of Landsmanshaftn in New York", American Jewish History, Vol. 76, No. 1, September 1986, pp. 25-39.

"Mass Communication and Ethnic Identity in Immigrant Communities: The Case of Landsmanshaftn", The Role of Information in the Realization of the Human Rights of Migrant Workers: Progress Report on the Joint Study, Tampere: University of Tampere, 1986, pp. 64-65.

Books

Jewish Hometown Associations and Family Circles in New York: The WPA Yiddish Writers' Group Study,Bloomington: Indiana University Press, 1992

Courses taught at Penn State Abington

Interpersonal Communication, Introduction to Human Communication, Family Communication Theory and Research, Effective Speech, Communication and Trauma, Modern Judaism

Selected awards and honors

Faculty Development Grant, Penn State Abington, 2016
Visiting Scholar, University of Pennsylvania School of Social Policy and Practice, 2015-2016
Samuel and Flora Weiss Research Fellow, Yivo Institute for Jewish Research, 2009-2010
Pennsylvania Society for Clinical Social Work, Burland Award for Clinical Excellence, 2009
Institute for the Arts and Humanities, Penn State University, Individual Faculty Grant, 2008-2009
Psychoanalytic Center of Philadelphia, Academic Fellow, 2004-2006
HERS Summer Institute for Women in Higher Education Administration, 2000
University of Pennsylvania, Annenberg Scholars Postdoctoral Fellowship, 1996-1997
Transcending Trauma Project, Research Fellowship, 1994-1995
American Council of Learned Societies, Grant-in-Aid, 1990-1991
National Endowment for the Humanities Interpretive Research Grant, 1989-1990
Radcliffe Research Support Program, Schlesinger Library, 1988
National Endowment for the Humanities Travel to Collections Grant, 1988
Initiatives for Development in Educational Software Grant, University of Massachusetts, 1987-1988
Distinguished Teaching Award Nominee, University of Massachusetts, 1987
Lilly Endowment Teaching Fellowship, 1986-1987
Research Interests

Dr. Kliger's longstanding interest in the communicative practices and communal affiliations of immigrants and refugees includes a special focus on coping and adaptation in these minority communities.

Currently, her primary research explores legacies of love and loss in the aftermath of trauma, about which she has authored numerous articles and book chapters.

She teaches courses on relational communication and human communication systems where, together with her students, she continues to explore how communication in families, communities, and organizations can foster self-esteem, creativity, and resilience.
Education

Ph.D.

Communication, University of Pennsylvania, Philadelphia, PA

M.A.

Communication, University of Pennsylvania, Philadelphia, PA

M.S.S.

Clinical Social Work, Bryn Mawr College Graduate School of Social Work and Social Research, Bryn Mawr, PA

B.A.

Sociology, Barnard College, Columbia University, New York, NY