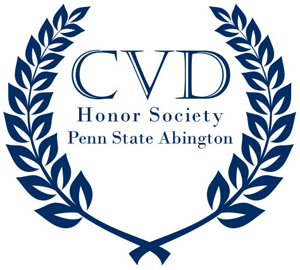 The CVD Honor Society is established to encourage community, foster intellectual curiosity in a social setting, and satisfy the needs of Penn State Abington's high achieving students in search of a community of ideas.
While the stated purpose of the organization is to learn about and discuss various topics of intellectual interest and create community among members from diverse backgrounds, the aspect of dinner meetings provides a unique environment for members to learn skills that will benefit them in the future.
The Honor Society's name, CVD, comes from the three Latin words Civitas, Victus, and Dictio, which are broadly translated as Community, Nourishment and Word. Each concept represents one of the Society's three areas of pursuit:
Civitas (Community)
The Society will attempt to build community in a variety of ways, primarily through general membership meetings where most of the community and organization identity is established.
Victus (Nourishment)
The general membership meetings will include dinner. The arrangement of the room, seating placement at various tables and social aspects of the meeting provide a unique setting where both discussion and community are facilitated.
Dictio (Word)
Each general membership meeting will include a presentation given by a guest speaker, followed by a period of questions and answers. During the meetings members will further explore the theme through table discussion before and after the presentation.
Additional Information
Members are not assessed dues or fees. Funding for the CVD Honor Society is generously provided by alumni, donors and other friends of Penn State Abington.

Honorary Co-Chairs:
Andy August, Interim Chancellor
Linda Miller, Distinguished Professor of English

CVD Oversight Committee:
Jennifer Hunter, Abington College Library
Alisha Walters, Arts & Humanities
Hae-Won Kim, Science and Engineering
Alex Serrano, Social Sciences